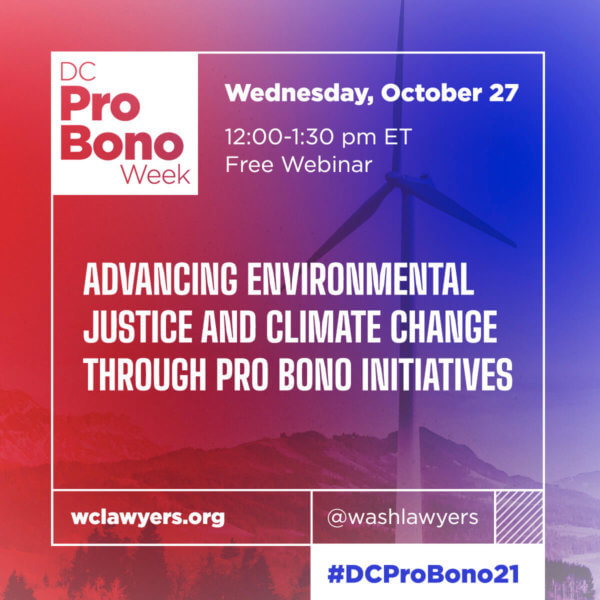 DC Pro Bono Week 2021: Advancing Environmental Justice and Climate Change Through Pro Bono Initiatives
When: 27 October 2021, 12:00 pm to 1:30 pm
Where: Virtual
Cost: Free
Hosted by the Environmental Law Institute
Join the D.C. Environment and Energy Associations (DCEEA), D.C. Bar Environment, Energy, and Natural Resources Community, and Women in Government Relations' Task-Force on Energy, Environment, and Agriculture for a pro bono panel to discuss opportunities for involvement in environmental justice and climate change initiatives.
With widespread attention increasingly focused on environmental justice and climate initiatives, many are interested in exploring opportunities to get involved in grass-roots and pro bono efforts. Leading experts in these areas explore the numerous aspects of and ways to become involved in a variety of types of pro bono work, including litigation, especially those in the form of citizen suits and petitions for rulemaking; advocacy, especially through testifying before government agencies, letter writing to agencies, lobbying, etc.; and hands-on non-legal volunteer opportunities. At the conclusion of their remarks, expert panelists field questions from participants during a Q&A session. Learn about tangible ideas and opportunities for involvement in pro bono opportunities for environmental justice, climate initiatives, and environmental issues more broadly.
Please register at the link below by Monday, October 25. All registrants for ELI events need to have an ELI "account." When you click on the Register link, you will be asked to log in.