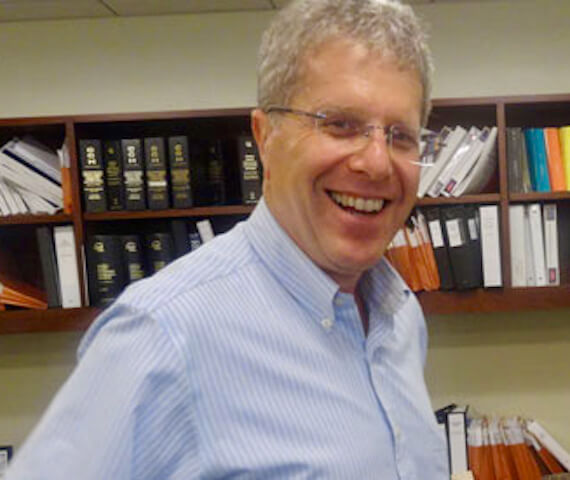 Pro Bono Week Profile: Gerald Richman
By Children's Law Center
When you ask Gerald Richman why he volunteers as a pro bono lawyer for Children's Law Center, he is quick to talk about vulnerable children who need someone in their corner.
"A lot of these families are walking on a tightrope," he says.  "But when you take a case, you can see immediate benefits for someone who needs help, who doesn't have a lot of advantages in life."
Indeed, Richman's pro bono work with Children's Law Center get him involved "in another side of life." As a seasoned lawyer at Skadden, Arps, Slate, Meagher & Flom, he spends most of his days advising corporate clients about energy regulation. But through his pro bono work, he's helped many parents fight landlords who refused to fix dangerous housing conditions that threatened their children's health.
One case involved a parent of two young children, living in an apartment with water leaking through the ceiling, a broken toilet, mice, and mold. "The landlord was very unresponsive until an attorney got involved," Richman said. "This is true in all my cases."
It's a story that Children's Law Center sees far too often. Through partnerships with pediatricians across the city, we meets hundreds of families each year whose children are suffering from health problems that can't be solved by medicine alone. The reason? Apartments that are infested by rats, mold, and roaches. Though Children's Law Center is the largest non-profit legal provider in DC, many more children come to the organization than they can help. That's why pro bono service is so important— each year, we turn to more than 500 top-notch lawyers from outside firms to take cases pro bono.
In Richman's most recent case, the parent came to her pediatrician's office in a panic when her son fell through balcony bars outside of her apartment. Fortunately, her son wasn't seriously injured, but it turned out that her daughter, who came along, was suffering from severe asthma. The pediatrician learned that the family's apartment also had mold and mice, which together with the balcony reflected an apartment that was putting the children's health in danger.
Richman ordered an independent housing inspection, which verified all the mom's concerns, and then filed a complaint in court to get the problems solved. At long last, the once-unresponsive landlord got to work fixing the issues. "Nine times out of 10, if an attorney gets involved, the landlord will fix the problem," he said. "It changes the equation for them," he said. It also changed the equation for the mom and her two young children, who are now on the mend—living in an apartment that no longer threatens their health and safety.
Richman is now an old pro in housing court, but that wasn't always the case. "I feel more experienced now, but my first case, I didn't know anything about this stuff," he said. Formal training from Children's Law Center helped to prepare him, along with resources and mentors. The latter were especially helpful, offering "the opportunity to bounce ideas off of someone, to talk to someone."
Richman also credits Skadden's Pro Bono Impact Project, a signature effort within Skadden's DC office to provide large-scale pro bono help on issues including housing, custody, and domestic violence. Skadden pairs attorneys to work on pro bono cases together, easing the workload and creating an experienced pool of talented colleagues to field questions.
In the end, Richman says that pro bono work has been rewarding for him—and that more lawyers should volunteer to help.  "If you're a junior person, these cases may be your only way to get frontline experience," he says. "And it's a way to do something different, too, to try out different skills." But most of all, he says "it's a good way to give back to the community, to help a family that doesn't have a lot of advantages in life."
Children's Law Center fights so every DC child can grow up with a loving family, good health, and a quality education. To learn more about volunteering, visit http://www.childrenslawcenter.org/pro-bono.