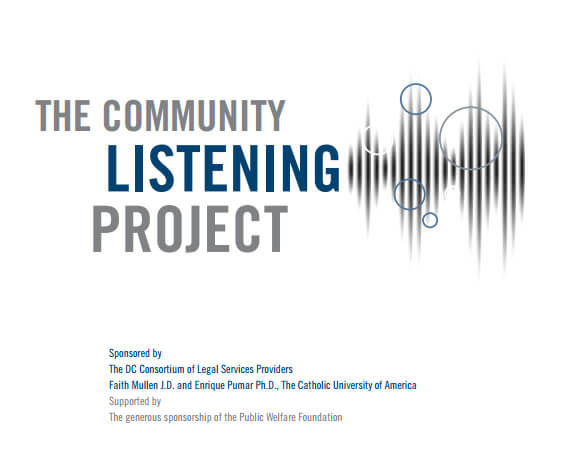 Poverty and Participation, East of the River
By David Steib
Exclusion begets poverty begets exclusion begets poverty begets exclusion begets poverty. "When the participation of people living in poverty is not actively sought and facilitated, they are not able to participate in decision-making and their needs and interests are not taken into account when policy is designed and implemented," said a March 2013 report by the UN Special Rapporteur on extreme poverty and human rights. "Lack of participation in decision-making and in civil, social, and cultural life," the report added, is "a defining feature and cause of poverty, rather than just its consequence."
In an effort to help address this cause of poverty, the DC Consortium of Legal Services Providers began an ambitious project over three years ago. With funding from the Public Welfare Foundation, the Community Listening Project sought the participation, through focus groups and surveys, of over 700 DC residents living in poverty. Today, the consortium releases a report that enables those participants to be heard.
Although the report does not break down participants by geography within the city, one of the report's authors, Professor Faith Mullen of the Columbus School of Law at the Catholic University of America, provided me with data specific to survey participants who live east of the Anacostia River. Approximately 23% of the survey's participants—133 people—reside east of the river; they reported a variety of problems, ranging from domestic violence to employment to neighborhood safety. Of the reported problems, however, housing was the most serious—with 24% of the east-of-the-river participants listing housing as the most serious problem that they had encountered in the previous two years. Among other things, participants had trouble finding affordable housing and, once they had housing, getting their landlords to make repairs.
The report reflects several other obstacles faced by those who live east of the river. More than a third encountered crime, including the sale of illegal drugs, in their neighborhoods. Nearly 70% had received food stamps in the past two years and more than 60% had felt uncertain about having enough to eat. And nearly a fourth had received Temporary Assistance for Needy Families (TANF) in the past two years; the DC Council is currently determining whether to terminate from the TANF program over 6,000 families—including over 13,000 children—who have reached the 60-month time limit on October 1, 2016.
In addition to quantifying the problems faced by DC's low-income residents, the report quotes them directly—thus combining the numbers with a more personal touch. These statements reveal the scope and depth of participants' concerns; those living east of the river described a loss of confidence and a generalized fear of what the future might hold: "DC is changing and I have a lot of mixed feelings about it, especially when it comes to longstanding community members and people who have family homes. It doesn't seem like there is a push to keep longstanding people in the community."
By soliciting responses about a range of issues, and by listening carefully to what respondents had to say and how they said it, the report sought to avoid presupposing answers and to be sensitive to the serious toll that poverty takes on people's lives.
Learn more about these and other issues affected DC's low-income residents by reading the full report.
Update: The Washington Post has coverage of the report as well.
David Steib (@dgsteib) is a member of our Board of Directors and Language Access Director at Ayuda.